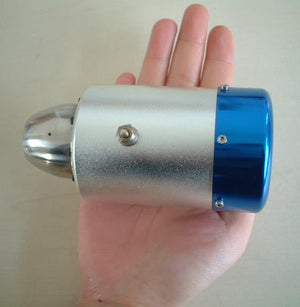 JM3.5 Micro Jet Engine Kit
                       JM3.5 Micro Scale Mini Jet Engine   3.5Lb Thrust Axial Turbine
This is a JM3.5 mini jet engine in kit form. Perfect for Foamies!
Ready to be assembled. A Fadec system can be added for auto start capabilities. 

 Bearings and Rear nozzle are included. Contains everything needed.
Build Guide can be downloaded HERE.
This Unit Can Be Upgraded to Auto Start. Using This Kit HERE.
 Included in this Kit:
Intake cover
Intake Nozzle
Diffuser 
Hybrid Ceramic Bearings
Exhaust Nozzle
Pre built combustor
NGV
Turbine wheel
Compressor wheel 
Axle Shaft
Axle Hub 
Bearings 
Spacers
Screws
Fuel Fittings
                                   JM3.5
                                   Length: 112 mm
                                   Diameter: 55 mm 
                                   Weight: 235 grams
                                   Nominal EGT:750Deg C
                                   Idle RPM: 98000
                                   Stop RPM: 70000
                                   Max RPM:235000
                                   Fuel Jet-A, Kerosene
                                   Lubricant Turbine oil 3%-5%
                                   Fuel comsumption: 85ml/min
                                   Max Thrust: 3.5 lbs